EVETTE ROSE – METAPHYSICAL ANATOMY INTUITIVE BODY READING WORKSHOP
METAPHYSICAL ANATOMY INTUITIVE BODY READING WORKSHOP
presented by Evette Rose – author of Metephysical Anatomy and founder of Metaphysical Anatomy Rapid Growth Healing Technique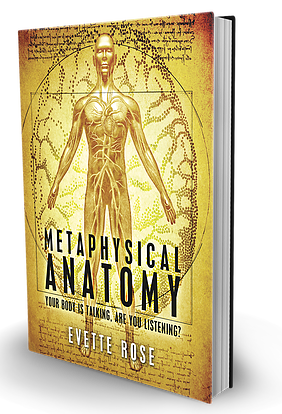 Learn how to communicate with your body through a powerful, short Metaphysical Anatomy Technique process. You will learn how to easily understand the body's messages and tell the difference between messages from your emotional body and messages from your DNA lineage.
 This is a brand new workshop from Evette and this is the first time it has been offered in Australia
 The body has its own language and its purpose is to serve you, so that you can serve your purpose in life. Many of us have disconnected from our body and fail to listen when it communicates to us that it's lacking emotional and supplemental resources to support the lifestyle that we have created.
Join us for this powerful two-day event where Evette Rose will teach you how to decode the unspoken messages of the body.
 Tuition will cover the:
Circulatory system
Respiratory system
Digestive system
Skeletal system
Muscular system
Nervous system
Reproductive (Male and Female) System
Organs
Ailments
Ligaments 
Brain
 Are you ready to discover the power of your emotional body?
*** Need to get in touch ? Please contact event organiser here at [email protected] or phone 02 9438 3833 ****
You may also be interested in Evette Rose's METAPHYSICAL ANATOMY TECHNIQUE practitioner training with Evette here at WE Institute in June.  Click here for more information: M.A.T. TRAINING