METAPHYSICAL ANATOMY TECHNIQUE PRACTITIONER TRAINING
METAPHYSICAL ANATOMY TECHNIQUE (MAT)
Rapid Growth Level 2 Advanced Certificate Training – 5 day live event
(level 1 is done online and is FREE with level 2 valued at $270)
presented by Evette Rose – author of Metephysical Anatomy and founder of Metaphysical Anatomy Rapid Growth Healing Technique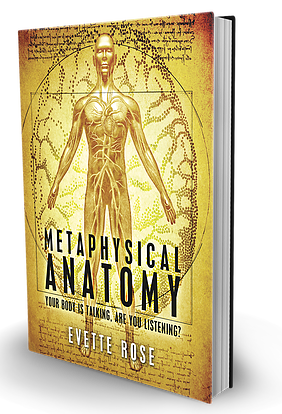 Rapid Growth Technique is a personal development 5 day intensive course that is designed to take you deeper into your unconsious mind!  You will learn how to understand the body and its emotional and physical symptoms as well as learn how to heal it and greatly improve your quality of life.  

The advanced Rapid Growth MAT live event teaching allows you to fully understand psychosomatic patterns related to medical conditions.  These conditions can be activated by circumstances in your present life, your ancestry, conception, womb, birth trauma, childhood or adult life.  Here you will learn to recognise and heal these aspects within you and others.
Your intuition will burst open AND you will learn more than 10 tools to facilitate a powerful session for your clients or you can become your own best practitioner!
EARLY BIRD PRICE $2195 AUD until 21st August 2019!  (normally $2460 AUD)  
Bonus with level 2 Live Training is FREE ONLINE LEVEL 1! (valued $270 AUD)

 ** if you have completed level 1 before please contact us for your discount code [email protected] or call 02 9438 3833 **
plus….bring 2 friends and receive at 50% discount.
Need more information?!  Click below to watch Evette's videos explaining everything! 
Click Here   to find out more about MAT history

Click Here   to watch MAT demonstrations
*** Still need to know more or would like to find out about our payment plan option?  Contact us at [email protected] or phone 02 9438 3833 ****